Kawade Shobo Shinsha Takatsuki Maki Pre war Japan SF movie Genesis What is Godzilla made of?
| | |
| --- | --- |
| Store | SAHRA |
| Code | nitem-00HOL2P2 (0100508208-0000000) |
| Price | 2,000 yen |
Info

Spot Sale Item Kawaride Shobo Shinsha Maki Takatsuki

Condition

with obi / B

Shipping Package Size

199mm x 140mm x 24mm / 375g

SAL

Checking...

SAL small packet available

SAL small packet is not available but SAL postal parcel is available

SAL not available

Category
The image shown is for reference purposes. The actual item and package may differ unless noted in the description. Please contact us for further details.
Same Item(s) in Other Store(s)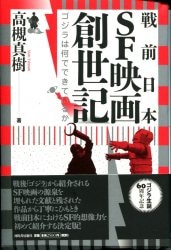 Different Condition Items(s)